Hula Hooping and Hoop Dance, all levels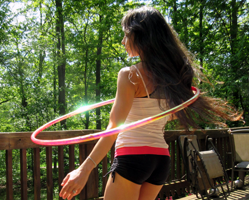 Dynamic sessions for the beginning to experienced hooper. Beginning students will focus on core rhythm and traveling before integrating a working knowledge of basic 'on' and 'off-body' moves. Intermediate and advanced students will focus on the skillful fusion of circuits and combinations, with options to create a doubles/multiple hoop practice.
Come to build skills, have fun, and make friends. Hooping is for everyone!
Barre
Cardiovascular and strength conditioning class designed to target the major muscle groups of the body, such as thighs, abs, gluteals, back and arm muscles, you'll work in a steady and controlled progression from an excellent position setup.  This series of ballet-inspired movements combines alignment, breath, and focus for a complete mind-body session. Low impact, 60 to 90 minutes.
Hoop Yoga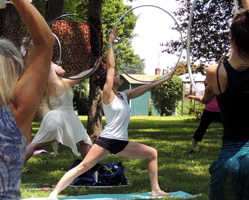 A relaxed blend of traditional asana and free flowing dance. Feel free to join in and connect with your own rhythm, or try integrating a hoop into yoga postures. Recreational hula hooping is a chance to explore embodied play while spinning up lots of happiness.
Practical Yoga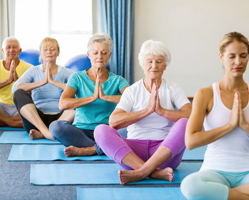 A gentle 45 to 60 minute practice with a focus on functional movement and somatics. This beginner to intermediate class is designed to help build a physical vocabulary of the most accessible yoga postures. Non-sectarian.
Pilates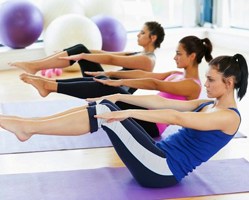 A 60 to 90 minute core-centric mat workout designed to elongate and strengthen the entire body while improving muscle elasticity and joint mobility. Combines strength and flexibility to aid in injury prevention and increase endurance for everyday activities and sports.
TivityHealth BOOM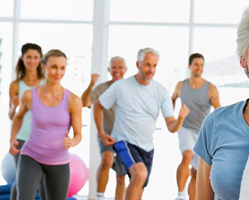 A low-impact, challenging workout developed by leading fitness experts to improve strength, flexibility and endurance in a convenient 30-minute format.
SilverSneakers Classic and SilverSneakers Yoga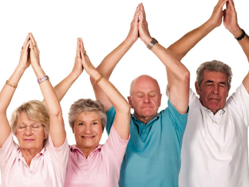 Part of the leading community fitness program for seniors that's helping millions of boomers and beyond defy the odds, these classes shatter stereotypes and answer every challenge with, "I can do this!".